Celebrity Feuds: Which Celebrities Have Ended Their Beef, And Which Ones Are Still Thriving?
Taylor Swift and Katy Perry appeared to have quashed their long-running feud as they embraced at the end of Swift's star-studded latest music video for her song, You Need To Calm Down.
The video ends with her and Perry – Swift, dressed as French fries, and Perry as a hamburger – walking towards each other before hugging.
The display of friendship between the pair comes after they buried the hatchet last year, following their reported row over backing dancers. They are both believed to have addressed the feud through their music – Swift's Bad Blood is thought to be about Perry, while Perry's Swish Swish is said to be about Swift.
Swift jokingly referred to their reunion on Twitter as "a happy meal".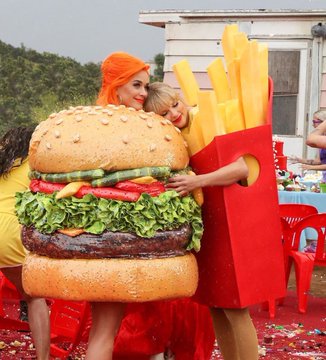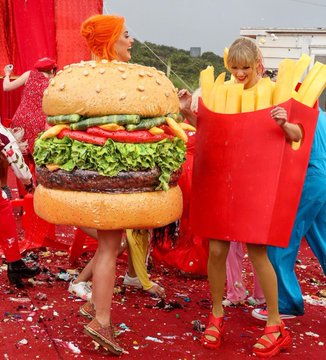 What about other feuds? Which celebrities have ended their beef, and which ones are still thriving?
Wendy Williams vs. Howard Stern
This feud was as recent as March this year. It all began when Wendy Williams was discussing Howard Stern's upcoming book, Howard Stern Comes Again, and criticized him for losing his shock-jock ways.
"Howard, I love you, but since you've gone Hollywood, everything you say is so predictable," she said. "Every story is going to be about, 'Oh, I love this one, and then we went on their yacht.' He's a Hollywood insider, which sucks."
"You started like me, being of the people," she added. "But at some point, you sat behind the microphone for too long and now you are the people. It hurts."
In saying that Stern had gone soft, Williams brought out the old, combustible Stern. He responded to Williams' "Hollywood" remark with a long rant on The Howard Stern Show.
"I'm not somebody you want to fuck with, honey," he said. "I don't want to hear your fuck. And you're not a nice person. Nobody likes you, that's why you can't go Hollywood. People do not like her. … She's a big pain in the ass. I hate to break the news to you, honey."
He also brought up Williams' hiatus from her show, and hinted at her marital problems. It was later reported that Williams' husband Kevin Hunter had been having an alleged long-term affair and had fathered a child with his mistress.
However, the two appears to have made up. There was no face-to-face apology, and no hug afterward. And that's fine, since their spat was conducted over the air. The reconciliation followed a similar path. Stern addressed the feud during a Hollywood Reporter profile, saying he was sorry for his reaction to Williams saying that he had gone "Hollywood." Williams then went on her show and said all's good between her and Stern.
Khloe Kardashian vs. Jordyn Woods vs. Kylie Jenner
We all know the story. In February 2019, the rumours were swirling that Khloe Kardashian's fiancé, Tristan Thompson, was cheating on her with Instagram model and Kylie Jenner's BFF, Jordyn Woods. Social media was ablaze with this one. At first, Jordyn denied, Tristan denied it, Khloe blamed Jordyn for everything, and Kylie didn't know what to do.
And then, Jordyn went on Red Table Talk and shared her take on what happened.
"There was a chair here, a couch and another chair, it's all filled. So he's sitting in this chair and there's an arm and I'm sitting on the arm of the chair. In my head, this is innocent. There's no way this would look like a lap dance, but I could see why people would say, 'Oh, they were getting cozy.'"
"On the way out, he did kiss me," she also told Jada Pinkett Smith. "It's just no passion, no nothing on the way out, he just kissed me. It was like a kiss on the lips, no tongue kiss, no making out, nothing."
Woods either moved out of Kylie's place or was kicked out. But as of June 2019, Kylie has essentially made up with Jordyn, though we're pretty sure they'll never be 100% BFFs. And as for Khloe, she reportedly "never wants to see Jordyn again."
Kanye West vs. Wiz Khalifa
Wiz Khalifa was the one to first ignite this crazy feud, calling out Kanye West for changing his album title to Waves.
"Max B is the wavy one. He created the wave. There is no wave without him," Khalifa blasted on Twitter.
West initially ignored the Pittsburgh native, but ultimately blew up on January 2016, after mistaking a "KK" reference made by Khalifa to be about his wife, Kim Kardashian. (Khalifa, however, was referring to his Khalifa Kush.) "You let a stripper trap you," West tweeted about Amber Rose in one of his replies. "You own waves???? I own your child!!!!"
West eventually deleted his comments but he concluded the spat with this message: "I'm happy that I now know that KK means weed… please excuse the confusion … now back to #WAVES."
Vivica Fox vs. 50 Cent
Vivica A. Fox created a firestorm on social media in November 2015 when she implied on Bravo's Watch What Happens Live that her ex-boyfriend 50 Cent was gay.
"I mean, we had a great time," she said on the show. "He just seems like he's got something that's not quite clear." Fox brought up an old magazine cover featuring 50 Cent, who she dated in 2003, and Soulja Boy. "He just looked like a booty snatcher on that one to me," Fox remarked.
Her ex caught wind of the comments and replied on Instagram: "Now she thinks I'm gay because I let her lick my ass. Wait, I didn't want her to, she forced me, my hands were tied. 50 shades of grey." He added in another post: "Bitch remember when you told me fuck Halle Berry? And you could have played all the roles she did better than her? And I just looked at you … like what the f–k kind [of pill] s–t did you take? LMAO."
The feud reignited in March 2018 when Fox called her sex life with the rapper "cherished and special" but PG-13 in her book, Every Day, I'm Hustling.
"I'm waking up to this shit," 50 Cent responded on Instagram. "That was 14 years ago. Smh who does this? What the fuck!"
Miley Cyrus vs. Nicki Minaj
After Miley Cyrus called out Nicki Minaj for her "not so nice" comments about Taylor Swift in a New York Times interview, the Anaconda rapper unexpectedly called out the 2015 MTV VMAs host at the August show — on live television.
"And now back to this bitch that had a lot to say about me in the press: Miley, what's good?" Minaj said on stage, as she accepted her award. The Pink Friday rapper also mouthed, "Don't play with me, bitch!"
Cyrus (as well her family members, the audience and well, everyone) appeared shocked from the side. However, in 2018, it looked like any bad blood had been wiped clean between the two when Nicki posted a clip of Miley dancing to Nicki's track, Chun li, on the fourth of July. Miley responded, "What's good."
It seemed like they were laughing it all off. However, in May 2019, Miley debuted some new songs, one of which has the lyric: "I love you, Nicki, but I listen to Cardi."
The line references Minaj's feud with fellow rapper Cardi B, which escalated in a heated dispute at the Harper's Bazaar Icons Party during New York Fashion Week in September, 2018.
Nicki Minaj, of course, had very strong words for Miley Cyrus. In the Friday June 21 episode of her Apple Beats 1 show, Queen Radio, the rapper, shot back: "A Perdue chicken can never talk shit about queens. But I do notice a lot of Perdue chickens recently have been trying to say the queen's name for clout. And that's always been happening."
The rapper added: "That's what [Cyrus] did in the first place. And then the white girl cried and made the black girl seem like she was a bad guy. In the first place, she disrespected me in a magazine article for no reason."
Minaj also made a reference to Cyrus' Black Mirror alter ego, Ashley O. "Now you comin' out with pink wigs, all you bitches want to be Nicki. This is the problem," she said.
Julianna Margulies vs. Archie Panjabi
The Good Wife stars, Julianna Margulies and Archie Panjabi's contentious relationship was part of the showbiz rumor mill for years, but it was finally exposed in 2015. Panjabi announced she was leaving the CBS series, The Good Wife, and for her final episode, her character, Kalinda, was supposed to share a scene with Margulies' Alicia — but it was revealed that the women filmed separately, and a green screen was used in post-production.
"[Panjabi] was also doing another show, called The Fall. I went along with whatever Robert asked me to do, and I did it happily," Margulies claimed in an October 2015 interview.