Juliet Ibrahim Makes Revelation About Loosing Her Chastity
Ghanaian actress, Juliet Ibrahim, has left many fans and followers in shock following her latest revelation on the social media platform.
While it is a norm for celebrities to be very expressive about their bodies and opinions on certain issues, there is still a certain way these celebs are perceived by the public.
Ghanaian actress, Juliet Ibrahim is one lady whose curves and amazing body leaves men thirsty. This is the main reason her recent revelation about loosing her chastity at age 30 has left people in utter shock.
The 33-year-old disclosed this in a question and answer session held via InstaStories on May 9. When asked by a fan what age she was when she lost her chastity, she simply replied: "30 years old."
See post below: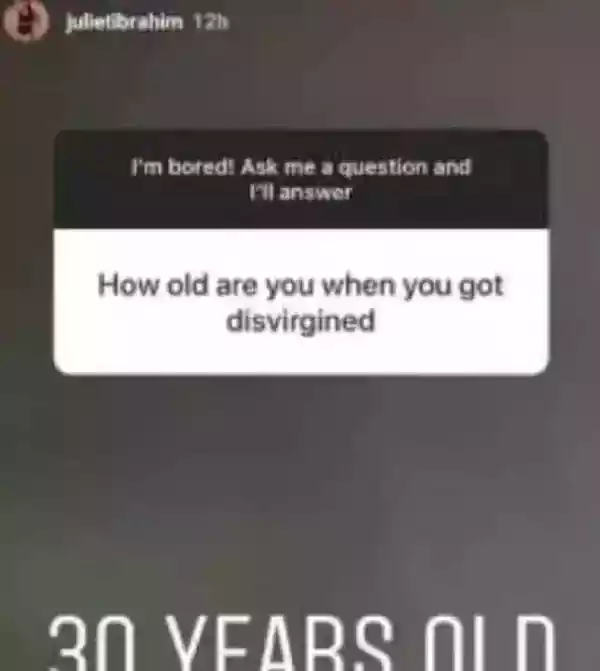 Actress Juliet Ibrahim makes jaw-dropping revelation about loosing her chastity
Her revelation not only shocked but confused peoplle. This is due to the fact that she was previously married to a businessman, Kwadwo Safo, from 2010 – 2014, from which the marriage produced a child named Jayden Safo, born in 2010.
Meanwhile, following the recently held Met Gala in the US which was attended by several celebrities, Barbados-born singer Rihanna was notably absent and this got her fans and followers curious, worried and disappointed.
One of many who took to the singer's comment section to express their feelings was Juliet Ibrahim. She wrote: "Riri, are u pregnant and hiding? We miss u." This however did not go down well with people on social media.
PAY ATTENTION: Download AriezNaija Mobile App From Google Play Store For More First-hand Entertainment Gist.