What Exactly Is Your Taste For Sunglasses?
At some point in a man's life, he has thought about how his face looks and the fitting a sunglass will do to his facial figure. You might have asked a few times "What are the best kind of sunglasses for my face?" "Wayfarers or Clubmasters?" "Can I pull off round frames??" .
These are important questions, indeed, How to Choose the Best Sunglasses for Your Face doesn't have to be complicated. There are a few timeless sunglasses styles, and I guarantee one or two of them will look smashing on you.
Just like clothing, sunglasses are subject to trends. You don't want to buy shades that will look ridiculous next year, but there are literally hundreds of styles to choose from. The key is to roll with the classics that have withstood the test of time – and that will never go out of style.
There's a lot of conflicting advice out there about sunglasses and face shapes, so you will have to choose the one that fits your style and face. Asides from the sport on attraction sunglasses give to your face, it is also a protective measure to keep your eyes in good shape for as long as you live.
The Throw Back on Sunglasses
For as long as man has squinted at the blinding sun, the use of sunglasses has been around. Dating as far back as prehistoric times, the Inuit people would cover their eyes with rudimentary, slitted goggles made from walrus ivory that would help to shield their eyes from the harsh rays of the sun. While this is the first documented use of sunglasses, the Roman emperor Nero was the man who really brought sunglasses to public light.
Also, it was the Chinese who first wore sunglasses indoors, which lead to sunglasses being worn by government spies. The judges in China's top courts would wear prescribed sunglasses, not as a method of preventing temporary blindness from the natural elements, but to conceal their faces while questioning witnesses on the stand.
Following this historic achievement, government agents working in protective and combat-related roles would use these shields not only to improve the clarity of their vision in the sun but to conceal where they were looking.
How Sunglasses Make Sense
What's important to look for, regardless, is protection from ultraviolet radiation, otherwise known as UV rays. These carry some of the most harmful side effects of the sun, which can result in both short-term and long-term ocular degeneration or impairment. Fortunately, the lenses that do protect against 99-100% of UVA and UVB light, with wavelengths of 400nm don't drastically affect the price tag, and typically price is only affected based on semi-precious materials used in the production of the frames, or the name of the brand behind the glasses, because margins in the sunglasses industry are huge. Many experts recommend looking for sunglasses labeled as UV400, as opposed to sunglasses recognized by the European Union, which only require a maximum wavelength of 380nm.

Always bear in mind that protection afforded by sunglasses cannot be seen. Darker lenses do not offer more protection. The only way to ensure optimal protection from the sun is to either have them tested or made by a qualified optician. I find this advice particularly useful to people with prescriptions such as myself. It almost kills two birds with one stone, offering you the enhanced vision from your prescription spectacles with the protection from the harmful UV rays.
Sunglass Do's & Don'ts
Like many accessories, it is my opinion that sunglasses should come with a standard set of rules and regulations. Not that anyone would obey them, but here are my thoughts on the matter:
1. Stop Staring into the Sun
This should be common sense. It doesn't matter if it's a solar eclipse, staring at the sun is just a stupid thing to do – even with UV400 sunglasses on. Stop doing it.
2. Don't Wear Your Sunglasses at Night
Only two types of people wear sunglasses at night. Blind men or people with sensitive eyes. If you are not one of them, don't do it.
3. Take Your Sunglasses Off when Indoors
I get that some people are sensitive to certain types of light, such as fluorescents. If you're not one of them, take your sunglasses off. You don't look cool. You look ridiculous. Especially at the bar.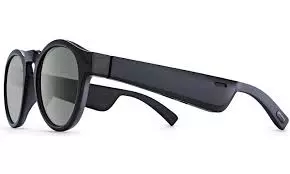 4. Avoid White Sunglasses
Of all the shades and colors of the rainbow, white is not one that should appear on sunglasses. When I was writing this article, I asked my neighbor at the office if she could think of any "rules" for wearing sunglasses. Her response was "Don't be like Dan!" — her husband and business partner who wears white Oakleys. We then spent ten minutes as she showed me pictures of him wearing them with a suit, at a funeral, and so on. Apparently, even Dan calls them his "Douchebag Shades". In other words, white sunglasses don't work unless you happen to be on the TV show "Jersey Shore". There may be one or two exceptions, but chances are unless you're a snowboarder or surfer you aren't one of them.
5. Wear Only
If you wear a suit with sunglasses, and you're not outside, you don't deserve to wear a suit. Similarly, pair the sunglasses with the suit. Oh, and don't wear sunglasses with formal wear such as morning coats, tuxedos, dinner Jackets or white ties. It just looks bad.
6. Invest in Sunglasses that Fit Your Face
No matter what the brand or how good the deal is, if sunglasses aren't a good fit for your face, don't buy them. Also, bear in mind that most faces are not symmetrical, whereas most sunglasses are. So go to an optician, and have your shades adjusted so they fit you well.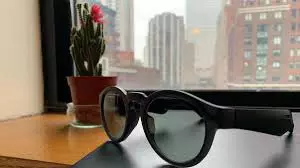 What Sunglasses Should Spend Your Money Buying?
It's not simple to answer this question. After all, we all have different faces and tastes. Today, 80% of the designer sunglasses in the world are owned by the Italian Luxottica company. As such, you shouldn't expect huge quality differences between brands. After all, the higher price point of designer frames from companies like Ray-Ban, Gucci, Fendi, and Versace are not an indicator of quality. You pay for the design and the name on the temple, but the frames are mostly injection molded plastic, and the lenses are nothing special either. Often, you will find special offers where the purchaser gets a free pair of prescription sunglasses with the purchase of frame, or something similar.